In the competitive world of business, an e-commerce website platform is a known solution to flourish. But launching a new E-commerce website can be troublesome. You have to research to decide the platform that can take a lot of time & effort.
While deciding the platform for an e-commerce website, you need to take into consideration that you can manage products & orders easily. You have to consider available shipping and payment options available, together with which platform can offer the best marketing and sales tools.

In this article, we are going to have a comparison between Nopcommerce vs WooCommerce. Let's get the details.

Build Technology & Initial Features
Both NopCommerce and WooCommerce are open source e-commerce solutions, but they both need different platforms to build on. WooCommerce is PHP-based and builds over WordPress using a plugin. Whereas NopCommerce is Microsoft's ASP.NET based. The following tables will give a comprehensive understanding.
Themes & Plugins Difference
NopCommerce has around 150+ themes (Commercial & Free themes) available along with different plugins and extensions. You can easily find them suitable for electronics, clothes, sports gear, jewelry, beauty products, toys, home decor & many more kinds of business. Checkout available list of themes and plugins in Marketplace.
On the other hand, WooCommerce has 500+ flexible themes designed for third-party sources. Its themes and plugins are also available in free and premium versions. You can also use StoreFront themes, including its child theme. If the Storefront theme is not what you are looking for, you can also purchase a WooCommerce theme for your store from ThemeForest.
As per the trends, NopCommerce still lacks a bit while the popularity of WooCommerce is increasing smoothly. 
NopCommerce has 7,457 websites as per the records.
And, WooCommerce has 920,395 websites as per the records.
As per the statistics at SimilarTech, we found WooCommerce is leading in the entire web & NopCommerce is lagging. 
Pricing of Support plans & Hosting
Both platforms have few common points when we talk about pricing. There might be an additional cost for several cases given below.
If you purchase any commercial theme or plugin from stores.
If you work with a developer to implement additional features.
If you want to optimize your marketing & SEO efforts.
Both platforms offer free community support. But NopCommerce premium support starts from $100/month while WooCommerce premium support starts from $25/month.
Hosting charges are also different for both platforms. NopCommerce website hosting starts from $12/month from Contabo, while WooCommerce website hosting starts from $3/month from Hostinger.
If you are looking for an open-source .NET based e-commerce platform, then NopCommerce is the best option. It is fully customizable and has many inbuilt features. It is one of the most efficient choices out there. It is suitable for businesses of any size, from small-size online stores to corporate-level multi-store retailers.
As a developer, you can download the latest ASP.NET core technology and create a highly sophisticated e-commerce store. As non-technical, you can take help from the NopCommerce community and work with thousands of certified professionals. All of them offer installation and store setup as part of their services.
WooCommerce is suitable if you have a small catalog of products. Otherwise, WooCommerce will most likely not be the best choice. As a store owner, if you already have a WordPress website and want to sell products online, then WooCommerce is the best option. It is a content management system and has the community to help people choose it over other platforms like Magento, and Open-Cart.
For now, let's move on to the last section of the NopCommerce vs WooCommerce comparison – a compact table that summarizes some of the essential information we discussed above.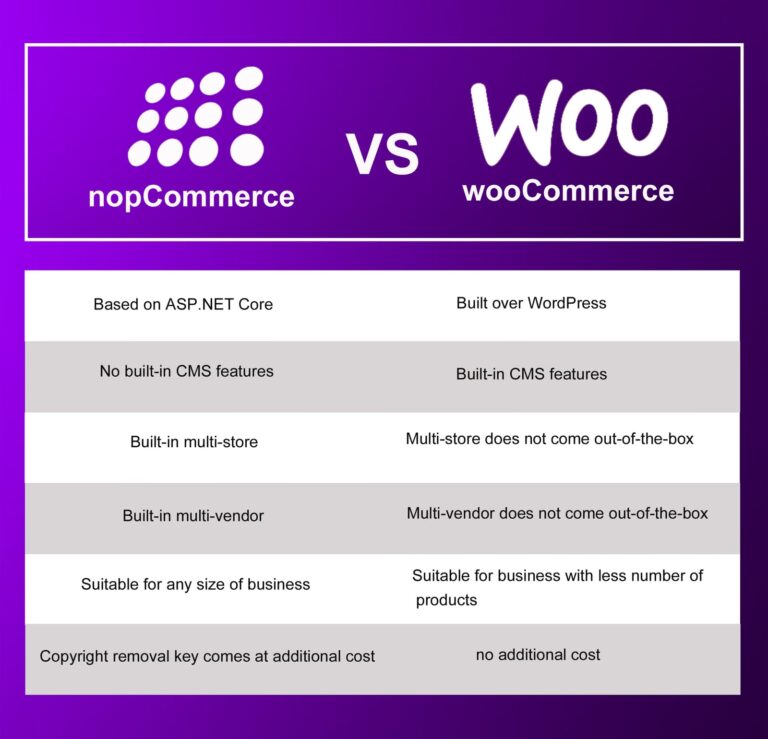 Based on our analysis, both the NopCommerce and WooCommerce solutions are very competitive. And, choosing the right platform for your online store is the key to your success. You can choose any of them after getting the details. But, choosing the right platform is quite a difficult task after getting details. Both platforms have some strong and weak points & we have compared all the details.
WooCommerce offers CMS and a more flexible system to use plugins, whereas in NopCommerce store owners will have to purchase an extension to add such features to their stores.
NopCommerce has multi-store and multi-vendor support, whereas WooCommerce does not support it & store owner will have to purchase an extension for it.
There is so much to differentiate between the two and, both are good for online e-commerce stores. You suggested to read the above article and make your decision as per your requirements and preferences. Be Smart to differentiate and choose wisely.
We hope we have covered everything and this information will help you. And, if you think we missed something, please let us know in the comments section below!